When I picked our bedding out, we were engaged (and armed with a wedding registry scanner), and had just signed a lease on a small house with white walls and hardwood floors:
Unfortunately, a couple years after that, we bought a house with carpet that just does not go:
We talked a good game about replacing the flooring throughout the house, but as our two year home ownership anniversary rapidly approaches, we're no closer to new carpet, and I'm finally starting to think seriously about how to work with it rather than decorate in spite of it.
For whatever reason, our duvet cover wound up tossed in this room recently:
and dude! – it looked great!  So the wheels in my head started turning.  What if we move the guest bedroom furniture into this room, put our green & yellow striped bedding on the guest bed, and buy new green and blue bedding for our room?
It would be reasonably inexpensive, would keep most of what we have in use, and would work with, rather than fighting, the carpet that we've got.
It was a great idea, until I realized how hard the execution would be.  Just the right green and blue bedding is hard to come by.  Dark enough to go with the carpet, light enough to feel bright and airy… eep.
My first stab was this duvet cover from Target.  It's not available in-store, but the website photo looked promising, and the price was great.
Above:  Liberty of London for Target – Paisley Duvet Set
Pretty, no?
But then, I did a little more searching online, and came across an ebay listing for the set.  The listing photos, which I suspect may be more accurate, show a different color that I didn't like anywhere near as well.  So back to the drawing board.
I've been drooling over LL Bean's Pincushion quilt, pictured in the ad below, for the last several home catalog mailings:
Drool.
But alas… not only do they only seem to have the twin available on the website, but it's a little more than I was hoping to spend, only to likely need to buy another, warmer blanket to go under it for the winter months.
Since LL Bean has so many coordinating items in the palette I'm aiming for, I perused a little more.  This comforter cover is pretty, but I'm not sure there's enough blue or green to accomplish what I'm looking for.  The dark blue floor might sooner swallow the pattern up.
And so I continued my search…
Pottery Barn – Sydney Palampore (and it's on sale!)
(but it might not pass the "no flowers" test…)
(Very pretty, but would it coordinate with the dark blue floor?  I'm thinking not.)
I checked every other purveyor of bedding I could think of, or Google could point me to:  Bed Bath & Beyond, Linens N Things, Macy's, Target, Walmart, Pottery Barn, West Elm, Ikea, Crate & Barrel, Eddie Bauer, overstock.com, amazon.com, and ebay, to name a few.  I found a bunch of stuff that I felt pretty uninspired by.  All of which led me to wonder if I should consider a Plan B.
The master bedroom was the first room in the house that we chose paint for, and I have never been especially thrilled with my selection.  It isn't bad, but it was never quite what I was going for.  The shade in the green guest room (my second stab) is much better.
Every time I've suggested repainting the master bedroom, I've been met with a stinkeye of massive proportion.  We eventually reached an agreement wherein I would be allowed to repaint when we eventually buy a bedroom furniture set, and the room gets emptied out anyway.  It seemed like a victory at the time, but given that, like the carpet, bedroom furniture hasn't cracked the top 10 list of priorities (nor have I found a set I must have anyway), I'm pretty sure I accepted an offer that my contracts professor would've shamed me for.
Leaving the Stinkeye Factor alone for the time being, what if… I moved all the green into the green guest room, repainted the room something in the gray/greige/taupe/blue family, and just embraced the concept of a blue bedroom?  That would broaden the option field considerably.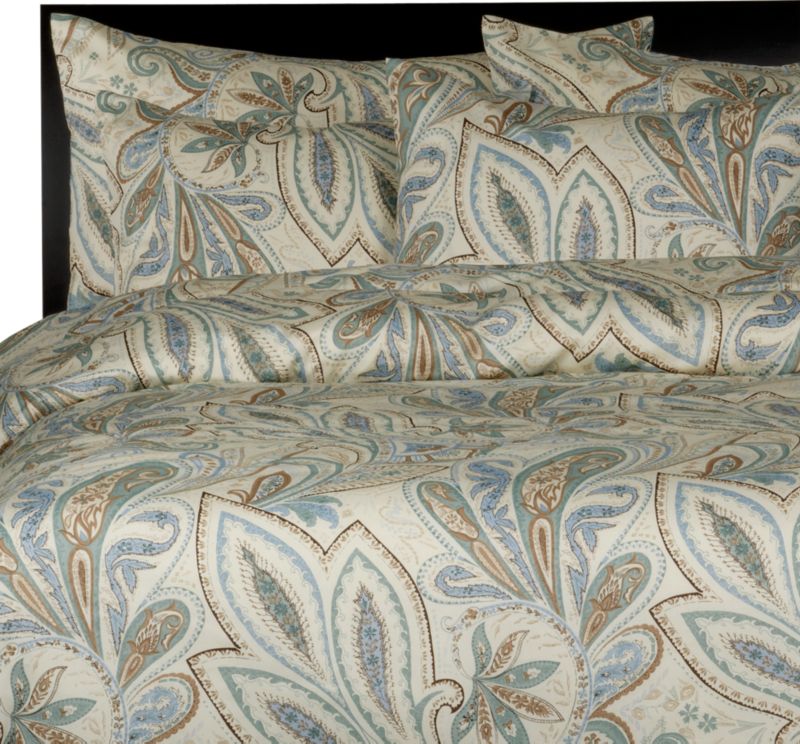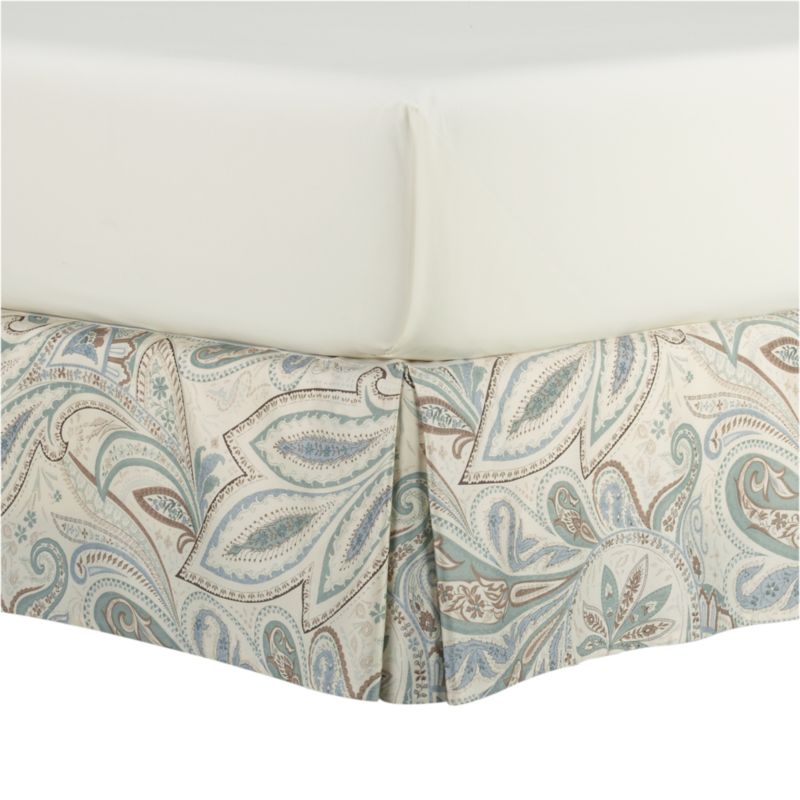 Crate & Barrel – Lindsey Paisley
I will inevitably keep brainstorming for a while, and keep adding ideas here, which serves as my best shot at getting all my ideas together in one place.  As always, the other option is to just leave it all as it is, and wait until we finally replace the carpet.  But what fun is that?